Egypt
Ministry of Transport: The light electric train will be implemented in 5 stages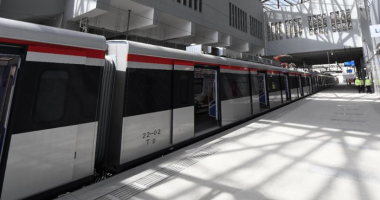 Ministry of Transport: The light electric train will be implemented in 5 stages
 
In our continuous endeavor to provide knowledge and deep analysis, Capitals News brings you an exciting topic titled Ministry of Transport: The light electric train will be implemented in 5 stages
. This topic is of great importance and carries many exciting aspects and valuable information. In this article, we will provide you with a comprehensive analysis and information that will help you deeply understand this topic and provide you with the tools and knowledge you need to make better use of it. Let us start!
Lieutenant General Kamel Al-Wazir, Minister of Transport, confirmed that the light electric train (LRT) will be implemented in 5 stages with a length of approximately 111 km, and a total of 20 stations, which are: the first stage, with a length of 65.63 km and the number of 11 surface stations, and the second stage from after the Capital Airport station to the City of Arts and Culture station. With a length of 3.18 km and 1 overhead station (opened to the public on 7/3/2022).
The third phase is being implemented, with a length of 20.4 km, from the Nativity Cathedral station to the Central Capital Station, with 4 stations (3 overhead + 1 surface), including a train storage workshop. The fourth phase, from after the New Obour City station until the 10th of Ramadan City Center station, is 16 km long, with 3 stations. "2 upper + 1 surface", and the fifth phase is 5.5 km long, reaching the industrial zone in the Administrative Capital.
The light electric train "Al-Salam/New Administrative Capital/10th of Ramadan" is considered one of the most important development arteries to serve the new urban communities "Shorouk – Obour – Mostaqbal – New Heliopolis – 10th of Ramadan – New Obour…" in addition to connecting them. In the New Administrative Capital, where it exchanges passenger transportation service with "the third line of the metro at the Adly Mansour Central Station – and the first line of the high-speed electric train network "Sokhna/Matrouh" at the Central Capital Station – the East Nile Monorail at the City of Arts and Culture Station." Areas have been established Parking for cars next to all project stations to encourage citizens to reduce the use of surface transportation and increase the economic return of the project.
For more: CN ، For social networking, follow us on Facebook & Twitter .
Source of photos and information: youm7