Miscellaneous news
Cairo News: 28 Palestinian children arrived at the Rafah crossing to receive treatment inside Egypt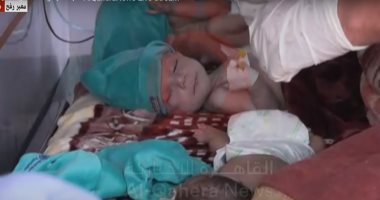 Cairo News: 28 Palestinian children arrived at the Rafah crossing to receive treatment inside Egypt
 
In our continuous endeavor to provide knowledge and deep analysis, Capitals News brings you an exciting topic titled Cairo News: 28 Palestinian children arrived at the Rafah crossing to receive treatment inside Egypt
. This topic is of great importance and carries many exciting aspects and valuable information. In this article, we will provide you with a comprehensive analysis and information that will help you deeply understand this topic and provide you with the tools and knowledge you need to make better use of it. Let us start!
Mohamed Obaid, Cairo News Channel's correspondent, reported that premature Palestinian children had begun being transported from the Rafah crossing, coming from the Gaza Strip, and 28 Palestinian children had arrived at the Rafah crossing.
The channel explained that it was scheduled to be 31 children, but 3 children were martyred during their transfer from the Gaza Strip to the Egyptian state. The children are scheduled to be transferred to hospitals, and some of the children will be flown to Cairo due to the seriousness of their health conditions.
For more: CN ، For social networking, follow us on Facebook & Twitter .
Source of photos and information: youm7