Miscellaneous news
Representative Ibrahim Abu Shaera: We reject the displacement of the Palestinians and the liquidation of the issue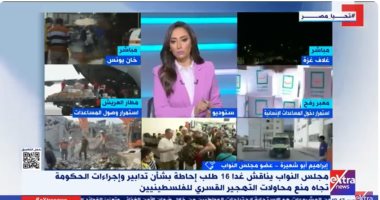 Representative Ibrahim Abu Shaera: We reject the displacement of the Palestinians and the liquidation of the issue
 
In our continuous endeavor to provide knowledge and deep analysis, Capitals News brings you an exciting topic titled Representative Ibrahim Abu Shaera: We reject the displacement of the Palestinians and the liquidation of the issue
. This topic is of great importance and carries many exciting aspects and valuable information. In this article, we will provide you with a comprehensive analysis and information that will help you deeply understand this topic and provide you with the tools and knowledge you need to make better use of it. Let us start!
Representative Ibrahim Abu Shaira spoke about the details of the briefing requests regarding the government's measures to prevent the displacement of Palestinians, saying: "Every human being has mercy and sympathizes with the people of Gaza, and the matter is not just a story of displacement, and we are all sympathetic to the Palestinian people."
Ibrahim Abu Shaira added, during a phone call to Extra News channel, that the occupation wants to end the people in Gaza, then the West Bank, then the greed in Sinai, and if the goal is for the Palestinians to enter Egypt, then the state can accommodate 100 million citizens.
Ibrahim Abu Shaera pointed out that Egypt has 10 million guests, coexisting in Egyptian society, and the land of turquoise in which its people paid blood and everything to recover every inch of it, but the occupation aims to liquidate the Palestinian cause, and we refuse to displace them, and we are with President Sisi in what he deems appropriate to preserve Egyptian National Security.
For more: CN ، For social networking, follow us on Facebook & Twitter .
Source of photos and information: youm7