Miscellaneous news
Television this evening: Youm7 TV reviews the causes of weather fluctuations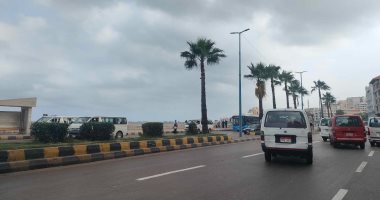 Television this evening: Youm7 TV reviews the causes of weather fluctuations
 
In our continuous endeavor to provide knowledge and deep analysis, Capitals News brings you an exciting topic titled Television this evening: Youm7 TV reviews the causes of weather fluctuations
. This topic is of great importance and carries many exciting aspects and valuable information. In this article, we will provide you with a comprehensive analysis and information that will help you deeply understand this topic and provide you with the tools and knowledge you need to make better use of it. Let us start!
Television programs on Sunday evening covered many important issues and topics that concern the Egyptian citizen and public opinion.
Youm7 TV reviews the causes of the current weather fluctuations
"Youm Seven TV" broadcast special coverage prepared by Amani Al-Akhras and presented by Menna Yahya, during which he reviewed the weather conditions during today and the coming days..
In this regard, the special coverage continued, the Meteorological Authority expects that today, Sunday, will witness a state of instability in weather conditions, accompanied by rainfall of varying intensity that may be thundery at times, reaching torrential rains in areas of northern and central Sinai, accompanied by active winds on… Most areas and temperatures will drop by values ​​ranging from (2-3) degrees Celsius .
Today is expected to witness moderate to heavy rain, which may be thundery at times, in El Alamein – El Dabaa – Alexandria – north of Beheira Governorate – Kafr El Sheikh (and from 2 pm it will extend to the north of Dakahlia Governorate – Damietta – Port Said)..
Today is also witnessing moderate intensity rain, which may be thundery at times, over Salloum and parts of Matrouh – south of the Beheira, Dakahlia, Gharbiyya, Sharqiya, and Menoufia governorates, extending in the evening to (Cairo – Giza – Qalyubia – Ismailia – Suez), and light rain that may be moderate over (Fayoum – Beni Suef – South Sinai – Gulf of Suez area), and rains of varying intensity reaching torrential rains in North and Central Sinai..
Today also witnesses wind activity causing sand and dust in the Western Desert, northern Upper Egypt, Sinai, and northern Red Sea Governorate, and maritime navigation disturbance in the Mediterranean Sea, wind speed (60 – 70 km/hour) and wave heights of 3 – 5 metres..
As for today's temperatures, Sunday: Great Cairo is 24 degrees and Minor is 17, Alexandria is 20 and Minor is 17, Matrouh is 20 degrees and Minor is 14, Great Sohag is 26 degrees and Minor is 16, Great Qena is 27 degrees and Minor is 17, and Great Aswan is 28 degrees and minus 18.
Meteorology reveals when weather conditions will improve
Dr. Iman Shaker, a member of the Meteorological Authority, said that the weather condition in the country is affected by a polar depression, and unstable rainy autumn weather prevails in the governorates of the northern half of the republic and is less severe in northern Upper Egypt, pointing out that the depression brought dust-laden air masses from the Western Sahara, On northern Upper Egypt.
The member of the Meteorological Authority explained, during a telephone conversation with media personality Sally Salem, on the "Al-Bayt" program, broadcast on "Al-Nas" satellite channel, today, Sunday: "Some areas are affected by northern winds that lead to the formation of clouds and rain falling between moderate intensity and heavy, and in some areas It was above average, reaching North Sinai, and is expected to reach torrential rain".
She added: "Rain will continue to fall in Greater Cairo, until noon tomorrow, Monday, and the amounts of rain will increase, along with wind speeds, and this increases the feeling of cold weather, which requires wearing winter clothes."".
She continued: "The governorates that will be most dangerous in bad conditions are Alexandria, Beheira and Port Said, and the least affected is Greater Cairo, and weather conditions will improve on Tuesday, with temperatures dropping."".
Extra News correspondent: The Rafah crossing is operating despite the rainy weather and the entry of 50 aid trucks
Hisham Abdel Tawab, the correspondent of the Extra News channel, monitored the work at the crossing in front of the Rafah land crossing, saying: "The crossing is working despite the rainy weather, as 50 trucks of aid entered the Gaza Strip through the crossing today, two trucks of fuel also entered, and there is a third truck." Waiting for her to enter.
Hisham Abdel Tawab pointed out that this is due to Egyptian efforts to bring fuel and aid into the sector, which has been subjected to severe bombardment by the Israeli occupation forces since the seventh of last October. Fuel in particular was refused entry by Israel before the release of the detainees, but Egyptian pressure succeeded in bringing it in..
Hisham Abdel Tawab added that preparations are underway to receive the injured, as 8 cases of the infected have arrived as humanitarian cases of cancer patients, and other cases, including 3 children and 5 cases, are being admitted to Al-Arish, Sheikh Zuweid and Beersheba hospitals to receive treatment.
For more: CN ، For social networking, follow us on Facebook & Twitter .
Source of photos and information: youm7