Miscellaneous news
Video.. Abu Al-Yazid Salama: It is not permissible for a widow to adorn herself during the waiting period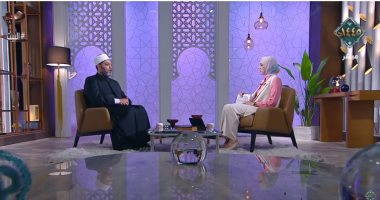 Video.. Abu Al-Yazid Salama: It is not permissible for a widow to adorn herself during the waiting period
 
In our continuous endeavor to provide knowledge and deep analysis, Capitals News brings you an exciting topic titled Video.. Abu Al-Yazid Salama: It is not permissible for a widow to adorn herself during the waiting period
. This topic is of great importance and carries many exciting aspects and valuable information. In this article, we will provide you with a comprehensive analysis and information that will help you deeply understand this topic and provide you with the tools and knowledge you need to make better use of it. Let us start!
Sheikh Abu Al-Yazid Salama, the scholar at Al-Azhar Al-Sharif, answered a question about the ruling on a widow wearing adornment or makeup during her husband's waiting period?
He said during his interview with media personality Sally Salem, in an episode of the "Al-Bayt" program, broadcast on "Al-Nas" satellite channel, today, Monday: "It is not permissible for her to wear adornment or makeup during the waiting period, because it is called a period of mourning, and she should not leave her home except for necessity, including the home." It may be demolished, or she may not be able to pay the rent, or she may have a job and no pension to support her."
He continued: "Among the etiquettes related to mourning and mourning, you must refrain from wearing eyeliner or perfume or wearing gold. This is in contrast to a woman who is in a revocable divorce. It is better for her to adorn herself, as her husband may favor her and take her back again."
He continued: "Islam takes into consideration the children and parents of the dead. If a widowed woman adorns herself during this period, what will be the condition of the dead person's family regarding this adornment, whether on the body or on the face?"
The United Media Services Company had launched Al-Nas Channel in its new form, by showcasing its range of programs and the new map that will be broadcast on its screen during 2023.
Al-Nas Channel broadcasts, via frequency 12054, several programs for women, children, religious, youth and cultural programs, covering all areas of life.
For more: CN ، For social networking, follow us on Facebook & Twitter .
Source of photos and information: youm7